BREAKING NEWS: FRENCH VALLEY BUSINESS PARK IS NOW FOOD & BEVERAGE SHOVEL-READY CERTIFIED! Read More...
Food & Beverage Shovel-Ready Certified
French Valley Business Park has received Austin Consulting's prestigious Shovel-Ready Site Designation Award. The designation as Food & Beverage Shovel-Ready means potential tenants will know the site meets the criteria for most food and beverage production. The certification includes detailed reports that support the park as suitable for food and beverage plant location, and are available for site evaluation.
Virtual Site Visits
French Valley Business Park features site selection technology that allows virtual site visits to quickly analyze location and buildings, without leaving your office. It's the data you need in just a few clicks.
French Valley Business Park
With easy access off the Cumberland Parkway (future I-66), the park is designed with the open-ended needs of today's industries in mind. It is a 104.2-acre park that features 8" water, 8" sewer and 6" gas lines. French Valley is zoned I-1 Light Industrial and is located between Russell Springs and Jamestown approximately 1.9 miles from the Cumberland Parkway via U.S. Hwy. 127. Download PDF. The park includes a 43,750 square foot speculative building that is ready for immediate occupancy. Download PDF.
PowerVision Drone Technology
PowerVision uses drone technology to provide a birds-eye view of available tracts French Valley Business Park, along with vital information about our community.
To gain new perspectives on the available industrial sites open in Russell County, Kentucky, South Kentucky RECC and Qk4, Inc., have partnered together to create aerial fly-over videos of the French Valley site utilizing unmanned drones. These videos give high-definition rendered views of the topography and accessibility of each lot within the industrial park.
Our aerial video fly-over provides the viewer the convenience of experiencing the site from in its entirety without the need of physically walking the site. First impressions are important when making informed decisions, and now we can bring the site to you through this comprehensive fly-over and the data captured.
Import Models into CAD Software
More than just video rendering, the aerial mapping drone has collected the digital topography of the industrial site. We have developed a digital surface model of the entire industrial complex—with elevation data for the roads, ground, and existing developed lots—to be used for preliminary design concepts. The high resolution elevation model was collected in a color point cloud that can be imported into any modern CAD software for profiles, cross sections, and drainage analysis.
With our drone rendered videos and digital surface models, we now can bring the site into your office for an interactive, total-site inclusive view that will better inform your decision making. The Russell County Industrial Development Authority, South Kentucky Rural Electric Cooperative and partner QK4 stand ready to assist you as you consider Russell County, Kentucky for your next development opportunity.
Download French Valley CAD files.
Interactive Map with Potential Site Configurations
French Valley Business Park with available building and Potential Site Configurations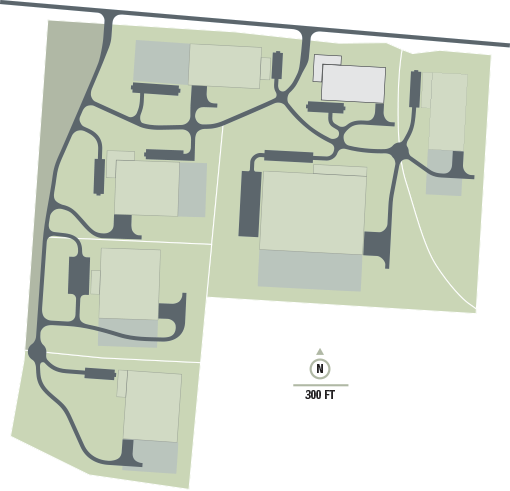 ---
Other Properties
In addition to our new French Valley Development, Russell County has two other business and industry parks. The Russell County Business Park has attracted companies like Bruss North America, Tantus Tobacco, Lily Creek Industries, and Dr. Schneider Automotive Systems. This park has one remaining site of 6.2 acres and features 8" water, 8" sewer, 8" natural gas lines.
Jamestown has one industrial park. A 28.9-acre site near U.S. Hwy. 127. This site features 12" and 16" water lines, 8" sewer lines and 4" gas lines.

Other major industries located in Russell County include Superior Battery Manufacturing Company, Stephens Pipe and Steel and GGF Heritage.
French Valley Spec Building Photo Gallery