The Seed Academy is an idea conceived by the RCIDA to address an immediate education and workforce sector need: future agriculture. The plan is to develop a regional center to study and advance the latest agricultural sciences and technologies. The momentum for such an educational facility has been bolstered with support from regional schools and colleges, as well as agricultural industries such as AppHarvest, which has offered to help with the curriculum. The plan calls for the RCIDA to build and own the center, while the Russell County Schools will maintain and staff the facility. As modeled by the existing College and Workforce Center, the goal is to share the facility and equipment with area colleges for evening adult instruction. A number of colleges have already voiced strong support and commitments in funding applications.
The RCIDA applied for and was awarded $1,478,973 in ARC funds and $376,000 in USDA funds to build the facility. Currently, additional funding avenues are being explored for the full construction of phase one and phase two. The RCIDA has donated approximately 11 acres in the Lake Cumberland Regional Industrial Complex Site 1 park. The Board also contracted MSE of Kentucky to execute the preliminary design and engineering drawings.
Why is the RCIDA building an AgriTech Center?
AgriTech is becoming a major sector in Kentucky's economy, with companies like AppHarvest, Stellar Plants, Kentucky Fresh Harvest, West Kentucky Aquaponics, and others choosing to make the state their home. Cutting-edge agricultural research companies like Alltech, Kentucky BioProcessing, Lepidext, and more are finding Kentucky a great place to innovate and advance the science of food production. Learn more about the future of farming and how Kentucky is structured to accommodate this industry sector on the state's AgriTech website.

Check back for progress updates as the project gets underway.
PRESS RELEASE FROM KENTUCKY SENATOR MITCH MCCONNELL, MARCH, 2021:
WASHINGTON, D.C. – U.S. Senate Republican Leader Mitch McConnell (R-KY) and U.S. Congressman James Comer (KY-01) announced today the Russell County Industrial Development Authority received a $1,854,972 competitive federal grant to build a new agribusiness training facility. The Appalachian Regional Commission (ARC) and the U.S. Department of Agriculture (USDA) awarded funding to support the construction of a 12,815 square foot building with classrooms, a laboratory, a media room, administrative space, and 1,250 square foot greenhouse. In its first three years, the facility will host classes for an estimated 870 high school and community and technical college students and will serve Adair, Casey, Clinton, Pulaski, Russell, and Wayne Counties.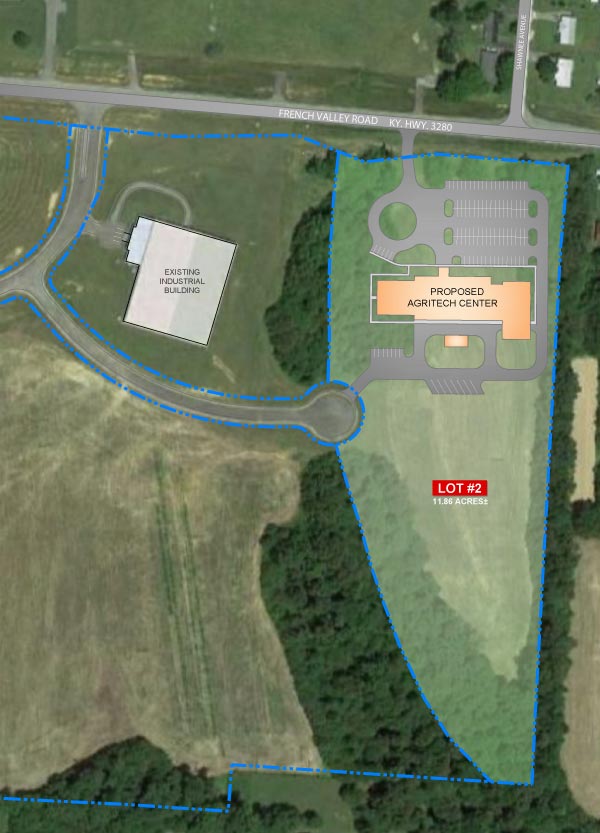 Senator McConnell's and Congressman Comer's offices contacted ARC in support of their constituent's grant application and its mission to strengthen the area's agricultural economy.
"Kentucky is at the center of our nation's agribusiness innovation. With this federal investment, a new generation will have the opportunity to become leaders in this growing field," said Senator McConnell. "It's a privilege to work with Congressman Comer as we deliver for Southcentral Kentucky students and families. I look forward to students taking the education they receive in this facility to transform the future of Kentucky agriculture."
"As a career farmer and Kentucky's former Commissioner of Agriculture, I understand that agriculture education goes hand in hand with workforce development in rural Kentucky. This grant will boost our economy by providing Kentucky students with access to a quality regional training center in Russell County," said Congressman Comer. "I was proud to work with Senator McConnell and the Russell County Industrial Development Authority to secure this vital federal funding that will enrich the lives of countless students."
"Agribusiness is a driver of economic growth in Russell County and the surrounding area, and the facility and programs supported by this investment will ensure a ready workforce is available for that growth to continue," said ARC Federal Co-Chairman Tim Thomas. "ARC is proud to work with leaders such as Senator Mitch McConnell and Representative James Comer to support projects like this, that can have significant impact on economic development in Appalachian Kentucky."
"On behalf of the board of Directors of the Russell County Industrial Development Authority, I would like to express our deep appreciation to Senator Mitch McConnell and Congressman James Comer for their support of grant funds to develop the Lake Cumberland Regional Agriculture Technical Training Facility in Russell County," said Bennie Garland, Russell County Industrial Development Authority Executive Director. "This facility, which will be under the Russell County Board of Education's management, will provide the curriculum and instructors to teach high school vocational students agriculture growing and management techniques. Students attending this facility will come from surrounding counties to learn new state-of-the-art technologies that ensure they will have the technical skills to enter into employment fields of animal and plant food production. With the recent developments that are now currently ongoing in Appalachia Kentucky by AppHarvest to build multimillion-dollar greenhouses, this training facility will produce a well-trained and qualified workforce."
Development and Construction Progress
July 2021.