Kentucky Export Initiative luncheon highlights resources available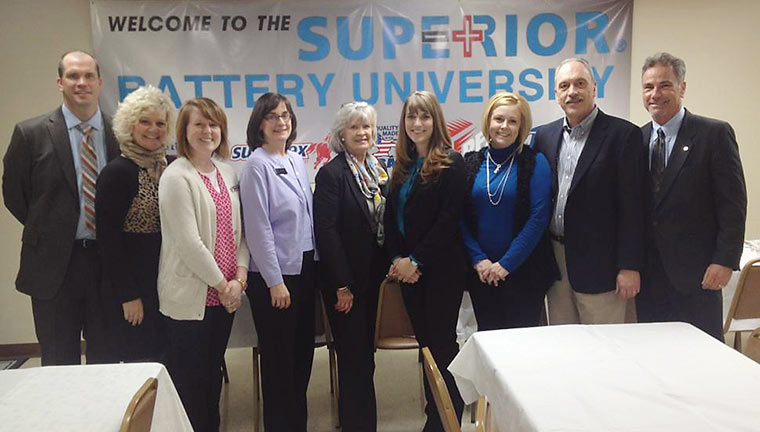 RUSSELL SPRINGS, Ky. (February 24, 2014) — In an effort to educate Russell County companies about opportunities to expand their business abroad, Superior Battery Manufacturing partnered with Russell County Tourism and Chamber of Commerce Feb. 18 to host a Kentucky Export Initiative luncheon at Superior's manufacturing facility.
The program, "Exporting from Russell County Kentucky: Let's Get Started" featured former Gov. Martha Layne Collins and representatives from the Kentucky World Trade Center, the Kentucky Cabinet for Economic Development and the U.S. Department of Commerce. The program was designed to inform local organizations and business leaders about the Kentucky Export Initiative and the opportunities and benefits of promoting and developing exporting opportunities.
Gov. Steve Beshear introduced the Kentucky Export Initiative in 2010 to help streamline resources available so companies have easier access to information as they explore taking their business overseas. Through a central website, kyexports.com, business owners can find information about resources available, including counseling, training, business matchmaking and financial assistance.
Superior Battery has become a model for export success, having utilized Kentucky Export Initiative resources such as the U.S. Commercial Service's Gold Key matching program and State Trade and Export Promotion grants to grow international sales from 3 percent six years ago to more than 30 percent today.
"Superior Battery's story is a really special export story, and for that reason it's one that when we go around the state and talk to different communities, we're constantly sharing that story," said Morgan Pierstorff, project manager for the Kentucky Cabinet for Economic Development.
It was in 2007 that Superior CEO Randy Hart began to notice indicators of an economic downturn. Because Superior's business was primarily domestic, Hart and his management team were concerned about the potential effects of a recession, and decided to explore exporting and how it could help sustain and grow the business.
What they learned was invaluable, said Ray Goodearl, vice president of sales and marketing. Becoming an exporter not only meant opening the door to financial opportunities in a variety of new markets, but it also meant learning how to change the company's entire business model and how goods are packaged and transported.
"It involved a lot of things we really didn't know much about, and this is where the folks inside this room really came to the aid of Superior Battery on educating us about what we needed to do," Goodearl said.
As a result, Superior increased export sales from 3 to 18 percent in its first year of selling abroad. In the seven years since the company embraced exporting, it now exports batteries to 29 countries around the world and has increased the share of export sales to 30 percent of total revenue. Superior has also been honored with three prestigious export awards — the Kentucky World Trade Center Governor's Award for International Trade Excellence in 2010, 2011 Exporter of the Year by Commercial News USA and an Export Achievement Certificate from Undersecretary for International Trade Francisco J. Sánchez in 2013.
Kentucky has had similar success. Collins noted that Kentucky set an export record in 2013 for the third consecutive year with $25.3 billion in sales. That's an increase of 14.3 percent over 2012, making the state second in the nation in export growth. But even with these impressive figures, still only about 3 percent of Kentucky businesses are selling goods or services overseas.
"The potential is fantastic," said Collins, who now serves as ambassador at-large of international trade for the Kentucky Chamber of Commerce. "The future of Kentucky can be even brighter than it is today because the potential is there. … What we've got to do as Kentuckians, because we're still competing with all those other states, we've got to be looking for new markets for our products."
Unfortunately, Pierstorff said, the idea of international trade can be a scary prospect for many companies.
"There's a lot of fear and hesitation about exporting, whether it be uncertainty about product markets or anticipated barriers to trade, whether they be language or regulatory," she said. "But the good news is that these are obstacles that can be overcome through our Kentucky Export Initiative partners."
Sara Moreno, director of the U.S. Export Assistance Center with the U.S. Commercial Service, explained her role in helping businesses find the right market for their products and determine target priorities. But possibly the center's most valuable resource, she said, is matching businesses with potential foreign buyers — a service that also helped Superior Battery find clients overseas.
Kentucky World Trade Center President Ed Webb emphasized that any business with a marketable product or service can benefit from resources offered by Kentucky Export Initiative partners.
"Ninety-eight percent of the companies trading internationally are small to mid-size companies," Webb said. "Trade is not a big-business requirement."
Goodearl recognized that exporting can be intimidating for small businesses, but encouraged those in attendance to embrace the resources available and spread the word.
"We need to talk to the community here and we need to encourage them that there's huge opportunity out there," Goodearl said. "There are all these tools that can help us fine tune the engines of our businesses. We need to encourage our people to reach into the toolbox and start seeing what they can do."
For more information about the Kentucky Export Initiative and the resources available to businesses, visit kyexports.com.
About Superior Battery
Founded in 1983, Superior Battery Manufacturing Company Inc. is a recognized leader in providing reliable power sources for automotive, commercial, marine, lawn and garden and deep cycle applications. The company manufactures a diverse product line, including its highly acclaimed Superlex® brand. Headquartered in Russell Springs, Ky., the company and its 165 team members serve distributors and suppliers across the United States and a growing number of foreign markets. For more information, visit www.superlex.com.